Thailand, Vietnam and the evolution of ASEAN manufacturing
The world has changed for the emerging economies of South-East Asia. The stable, export-oriented manufacturing of basic products that sustained regional growth is changing. Faced with competition from low-cost manufacturing markets in South Asia and Africa, countries across the region now face the challenge of retooling to facilitate a shift into smarter production incorporating digitalisation and automation.
When the consulting firm McKinsey surveyed business leaders across the Association of Southeast Asian Nations (ASEAN) in 2018, it found that almost all of them thought the introduction of digital technology to manufacturing was necessary to maintain competitiveness, but only 13% had begun this transformation. The McKinsey report estimated that embracing Industry 4.0 measures—the adoption of smart, data-driven systems and technologies to improve storage and computing capacities---could boost ASEAN's regional productivity by up to US$600 billion by 2025.1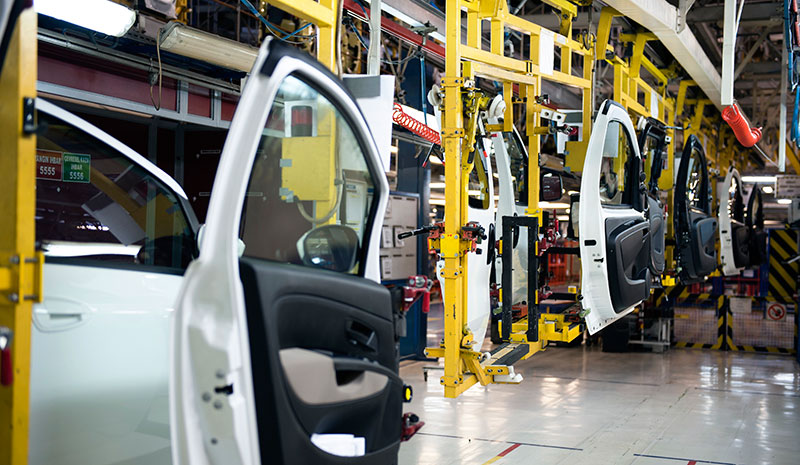 Nowhere is the challenge of digitalisation in South-East Asia being played out more clearly than in Thailand, one of the region's oldest manufacturing hubs, now running short of workers due to slowing population growth, and Vietnam—ASEAN's newest industrial powerhouse, which is racing to stay ahead of the competition.
Thailand 4.0 creates smart opportunities
HSBC Thailand's Head of Commercial Banking, Krisda Phatcharoen, estimates that Thailand's overall manufacturing sophistication level is around halfway to the government's goal of reaching Industry 4.0. "Most 4.0 manufacturing is being done by multinationals (MNCs) and large conglomerates, and we are still not seeing it much in the small and medium enterprises (SMEs)," he says. But this may change as the government brings in extra tax breaks to encourage smaller businesses to adopt more competitive and efficient manufacturing processes.
New investors into Thailand need to understand that the country is moving away from new labour-intensive factories in favour of attracting more advanced manufacturing in key industries, such as the automotive and aviation maintenance sectors. However, this new approach faces the challenge of finding skilled workers who can understand and operate the technology. "If we really want to get to Industry 4.0 in Thailand, we need an increase in vocational students who can fill these positions in the workplace," says Phatcharoen.
Thailand's manufacturing base is changing, argues Phatcharoen, and businesses that hope to take advantage of this should be aware of three things. First, traditionally strong sectors like automotive manufacturing will continue to play a leading role in the Thai industry, but are going to evolve into new areas, such as electric vehicles, and more intensive cooperation with co-located makers of sophisticated components. Second, the government is investing in and promoting new industries, such as aviation maintenance and medical tourism. Third, successful smart manufacturing will rely on improved infrastructure investment in areas such as electricity supply for data-based businesses, as well as better transport to ensure smoother logistics.
All three approaches will create opportunities for services, solutions and goods suppliers, as well as a requirement for consulting and technical expertise. Those businesses that can support these needs will benefit from the evolution of Thailand's manufacturing sector towards Industry 4.0.
Vietnamese manufacturing upskills to compete
Vietnam, where the garment and electronic sectors still dominate, and manufacturing and labour remain about 50% cheaper than in China, is starting from a less developed industrial base than Thailand. However, HSBC Vietnam's Head of Wholesale Banking, Stephanie Betant, believes there are early signs that the country is preparing for more advanced production.
There are state-led efforts to improve the manufacturing sector that have focused on creating a more robust regulatory-institutional framework. "One of the things that Vietnam has done very well in the past 10 years is to reform the labour and tax code. That has created a business environment that makes it attractive for foreign manufacturers to build a major hub here," says Betant. She also points out that even state-owned enterprises now run their own training facilities to upgrade their worker's skills.
Top-down initiatives have also been supplemented by private enterprise. The entry of Vietnam's largest conglomerate, Vingroup, into car production is an illustration of an overall trend towards more advanced manufacturing—one that utilises foreign technology and local export credit agency-supported financing. To support this, Vietnam has a sliding scale of investment incentives for new businesses that take into account the size of the investment, the number of employees and the location of the company. Some foreign manufacturers are also investing in more sophisticated production in the country, with Samsung planning to open research and development centres in Hanoi, and Apple reportedly considering a similar move.
Head of International Subsidiary Banking at HSBC Vietnam, Nick Mahon, says these developments foreshadow a gradual evolution from high-volume electronics manufacturing to more highly skilled manufacturing techniques and applications over the next five years.
This will enable Vietnam to stay ahead of the competition from South Asia, move ahead of Malaysia, which has traditionally been a manufacturing hub for MNCs, and continue to be the go-to destination for diversifying production from China. Newer markets like Myanmar and Cambodia can undercut Vietnam on labour costs, but they cannot offer Vietnam's advantageous geographic location next door to China, or compete with its fast-improving infrastructure, overall ease of doing business and political stability. Vietnam also has a growing number of trade agreements including the restructured Trans-Pacific Partnership, and free trade deals with both the European Union and South Korea, which are vital to the electronics sector.
Both Thailand and Vietnam are already advancing their manufacturing base, processes and skills, but opportunities are rife for new investments to facilitate the process of transition from simply training workers to developing better infrastructure integration.
Adopting Industry 4.0 could boost ASEAN's regional productivity by about US$600 billion by 2025.
At HSBC, we have over 130 years of experience connecting businesses to ASEAN. With award winning trade and treasury solutions and more than 200 locations across ASEAN including Singapore, Malaysia, Indonesia, Thailand, Vietnam and the Philippines let us connect you.
Issued by HSBC Holding plc
Interested in expanding your business to ASEAN? Let us help.